So, considering I haven't bought anything from my last wishlist (not through lack of trying.. I WILL find that MUA palette) it seems a bit odd to have another wishlist already. Oh well... this is what I want this week: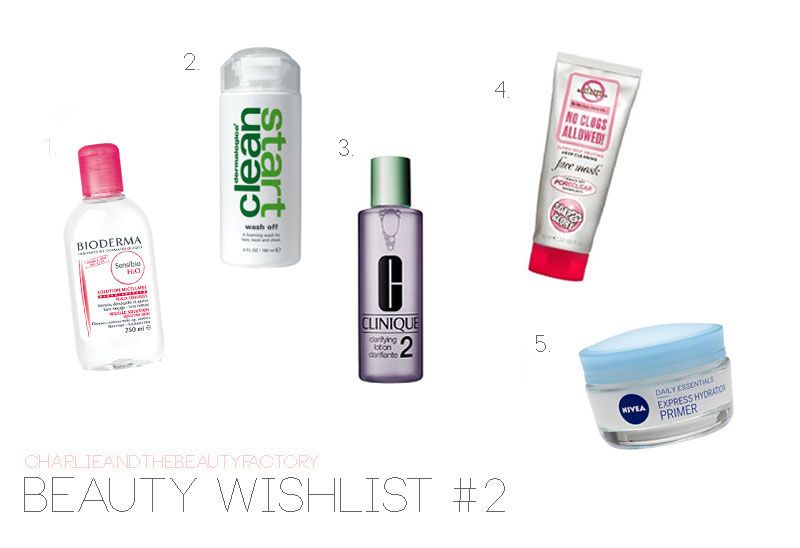 1. Crealine Sensibo H20 Micelle Solution - Bioderma - £12 (on ebay)
I'm falling into the blogging hype. Good lord. In all honesty I do want to try it as if it's as good as they say then it's worth having. Might wait until it appears in Boots (it's bound to surely?) so I can get some points :p
2. Clean Start Wash Off - Dermalogica - £14.30
I got a sample of this is a Glossybox and good lord its FAB-U-LOUS. The skin feels like velvet - so soft, so smooth! Will definitely repurchase at some point but am trying a few high street versions first (anyone have ideas?)
3. Clarifying Lotion 2 - Clinique - £16
Another thing I've used in sample size and I love it. My elder sister swears by clinique and still gets ID'd at 30 so something good must be happening.
4. No Clogs Allowed Deep Pore Detox Mask - Soap and Glory - £11
Am in the market for a new mask, I love the lush ones but they do go off (the last one I had went off before I had a chance to finish it) and you have to keep them in the fridge so I'm thinking of something I can put in the bathroom to make sure I do use it.
5. Express Hydration Primer - Nivea - £3.99
A time saving product? If this means I can do two things at once then it must be worth a go? I think it's more the case of remembering to buy it rather than the price aspect (who can argue with £4?!)
Any suggestions on what I should try skincare wise? Any of these products work for you or just get left on the shelf not being used? Let me know.