I've been using two pretty cheap nightcreams for a while now, and whilst I am not totally into my skincare I understand its importance. So if you are like me and would like to start a simple night routine, without spending serious money, have a read.
Boots Botanics All Bright Hydrating Night Cream 50ml - £4.99
here
Described as being a rich moisturising night cream with hibiscus and hylarunic acid so brighten and renew. It hydrates overnight to leave soft skin.
Superdrug Naturally Radiant Renewing Night Cream 75ml - £5.99
here
Formulated with kiwi fruit and mulberry extract, it 'delivers rich and long-lasting moisturisation whilst helping to refine skin's texture as you sleep'. It brightens, helps even out skintone and softens skin.
So I'd say they are pretty fairly matched, do you agree? So onto the battle!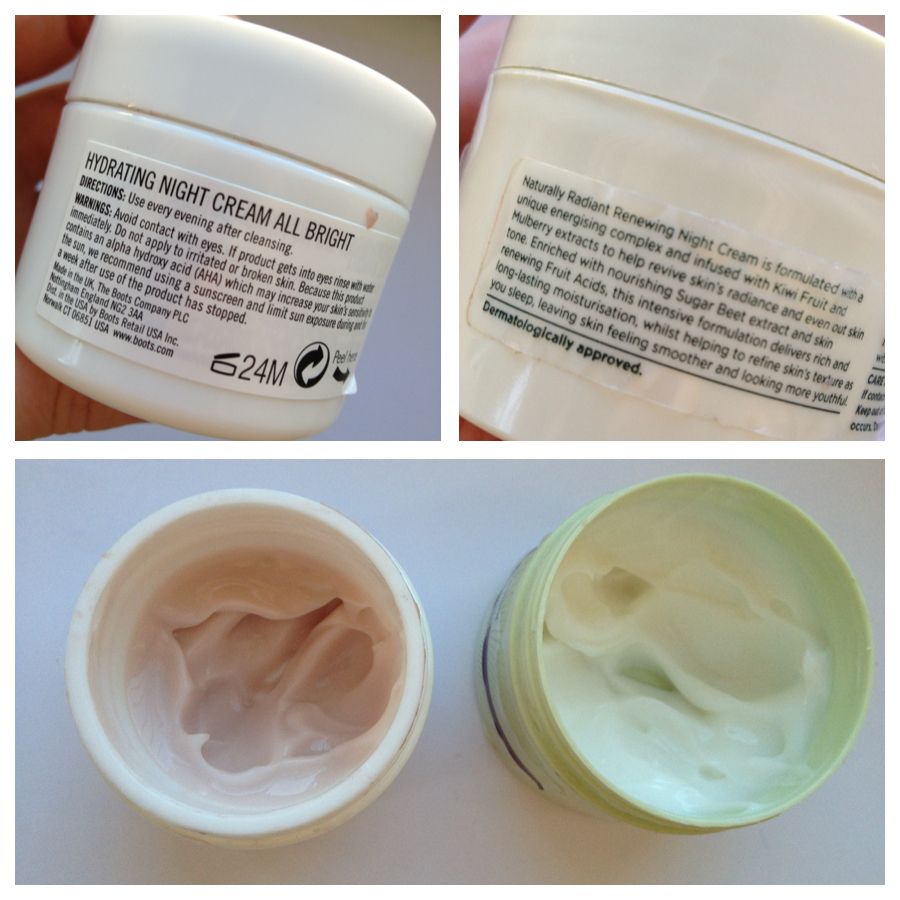 Price
Both are currently on offer, the Boots product being £3.49 and the Superdrug one being £2.99. With the Superdrug one though you get more for your money, so
Superdrug wins this one.
Smell
If I'm going to sleep with this on my face, it has to smell nice otherwise it's going to become irritating. The superdrug cream smells fresh very earthy whereas the boots cream the hibiscus really comes through and it smells a lot sweeter. This is down to personal preference but
I vote for the Boots night cream
.
Moisturisation
So I've used these individually but for the purpose of testing, I wore them both last night. Yep, I had half and half face. In on application the boots cream sinks into the face quicker wheras the Superdrug cream leaves an oil sheen on the skin which is a bit annoying. In the morning I tried to feel a difference in the skin but they felt the same! I'm going to go with
Boots Botanics as the winner
because it didn't leave an oily residue.
Brightening
Both of these claim to be brightening but in all honesty (and I've used these for weeks now) I can't say they do.
Ethics
The Superdrug cream is suitable for vegetarians and vegans and is certified by
Cruelty Free International
and this is clear on the packaging. The Boots night cream, as stated in
their policy here
'No animal testing of any kind is undertaken or commissioned by Boots or its subsidiary businesses'. On the website it states that Boots have tried to reduce the 'impact on the planet at every stage in this product's journey'. For transparacy
I vote that Superdrug with the battle of the ethics.
Results
Out of the five categories there is a tiebreak. So I'm going to be controversial and say that my favourite is the Boots Botanics. The feel of the skin and the smell are two important factors, after all that is why we want to use a night cream right? The results of both are the same so whichever you choose, be safe in the knowledge you are helping your skin be as lovely as it is now it ten years time... hopefully...