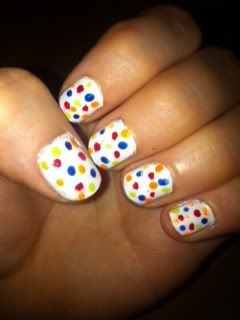 All I ever seem to post about is nail varnish! I love it! Brings a new lease of life to any outfit and unlimitless creativity! Anyway here is my offering today!
Base:
17 - Mini Skirt
Dots:
Models Own - Beach Party
w7 - Wild Blue
17- Juicy
Max Factor - Red Passion
Just used a hair grip to create the dots, let them dry then put a top coat on! Simple and so many compliments recieved! Winner! Have you tried this?