The modern age means one thing: reviews are plentiful, lust is there and there are a whole sea of products all vying for you to open your purse to purchase. If you are new to this mess, where do you start? Enter The Starting Off Project (#theSOproject) the brain child of Steph over at
Stephs Voice
. An initiative for those who maybe need some guidance by those who have tried and tested many things, a collective of good (and questionable) advice!
Today, I'm going to talk about skincare. For reference, I have normal/combination skin that doesn't break out unless I'm having a hormone fight. Below, the products that you need, some alternatives to them and an explanation why. Oh, and nothing will cost more than a tenner. I'd like to point out that this stuff is normally on offer in one of the drugstores, so shop around. The links I've provided are for the cheapest at the time. Enjoy...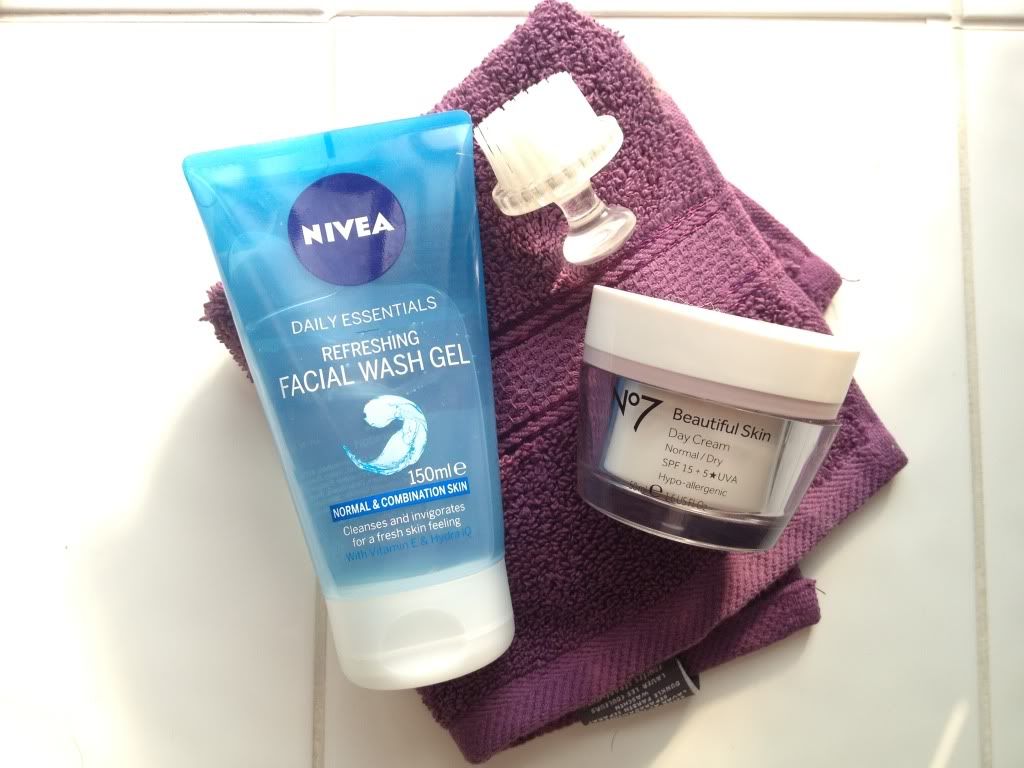 Morning
So you've woken up after a fitful nights sleep. You drank all that water you are told to before bed right? You KNOW that you are supposed to.. terrible. Drink more. In the morning I like to go the extra mile, as putting makeup on skin that isn't smooth takes more time and effort. I use
Nivea Refreshing Facial Wash Gel
and depending on how the skin is feeling, either use a flannel to take it off or
my Bodyshop Facial Brush
, which for £4 is a bargain and if you take anything from this post go out and buy this. Once your face is clear of any dead skin cells, grime and buildup lets plump it up using a nice moisturiser. Firstly, buy one with SPF. Every little helps and all that. I use
No7 Beautiful Skin Day Cream for Normal Skin
which is £12.50 but Boots normally have £5 off No7 skincare vouchers knocking around. I like the smell, it sinks in quickly and makes my skin feel plump and ready to go. For a cheaper alternative, use
Nivea Visage Light Daily Moisturisng Creme
. As you can imagine, this takes all of about 5 minutes, if that.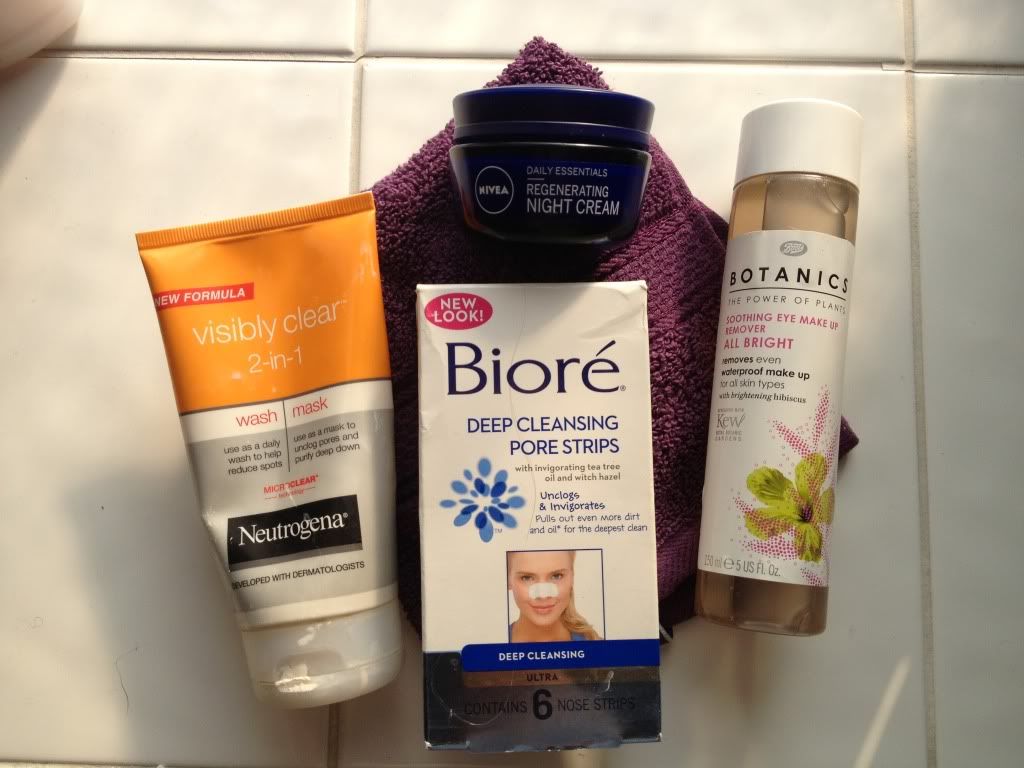 Evening
This is where a little more time is taken, as it is removing the build up of general dirt and makeup residue. Start by taking that pesky eye makeup off. I use
Botanics All Bright Soothing Eye Makeup Remover
as it is hardwearing against that pesky waterproof mascara. And currently its £2.66. Once that is done I like to was the face. My current fave is the
Neutrogena Visibly Clear 2 in 1 Wash and Mask
as it washes the face, it feels clean after but also doubles up as a 5 minute mask for more in depth cleaning. Also currently £2.66. The
Biore Nose Strips
are used as and when I need them, at the most once a week. These things are handy to have in your arsenal of goodies. Finally, a night cream, mine of choice being the
Nivea Regenerative night cream, £3
. In the morning my skin still feels moisturised, thats why I use it so much. I really rate the range, and you should too.
As you can see there are no makeup wipes. Why? Because even if you are drunk this doesn't take long, it can be done and makeup wipes are work of the devil.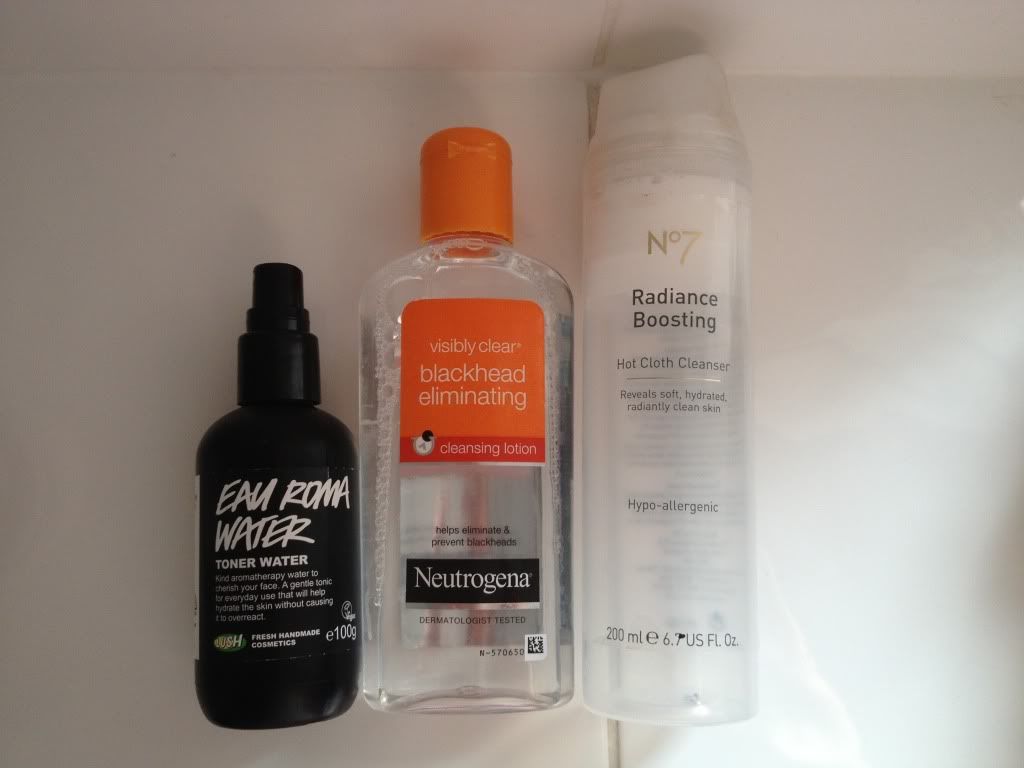 Notable Extras
These are for when my face needs a little extra, or there is a bit of residue left over. Fit these in between the cleansing and moisturising stages.
Lush Eau Roma water
is a Lavender based toner water that removes any excess cleanser and doubles up as a facial spritz on hot days. I leave this in the fridge.
There you have it. The routine. All under ten pounds. Your welcome.
Do you agree with any of these? Disagree? Lets start a discussion! Let me know what you think below.
Remember, you can win a MAC lipstick of your choice by entering
here
.