Recently I went to New York, and whilst watching the bright lights of Times Square flash and amaze I saw it. A MAC store. And that can only mean one thing....
Presenting Coppering! A Veluxe Pearl Finish with a rich copper colouring. It applies like an absolute dream, blends amazingly and lasts forever. The colour is either hit or miss.. for my colouring, Coppering goes superbly and brings out the blue in my eyes but for others it could leave you washed out. Wear with lashings of mascara - not necessarily black. A slick of dark grey or (if you are really daring) dark green eyeliner looks really fab with this.
Got Cranberry? Great paired with it as a transitional colour on the lid, my favourite way to wear this personally.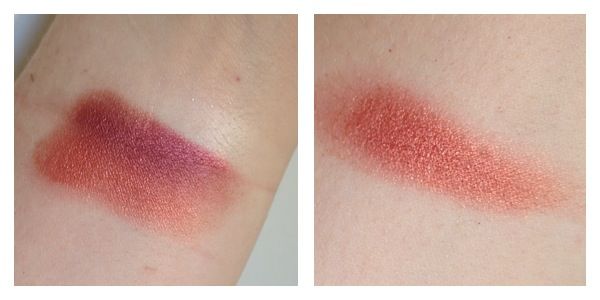 L- Coppering next to Cranberry R- Coppering swatch
So have a look for this colour, I personally took a risk on it. I went in, swatched like a maniac and hoped for the best as I'd never read anything about it online. And now its love.