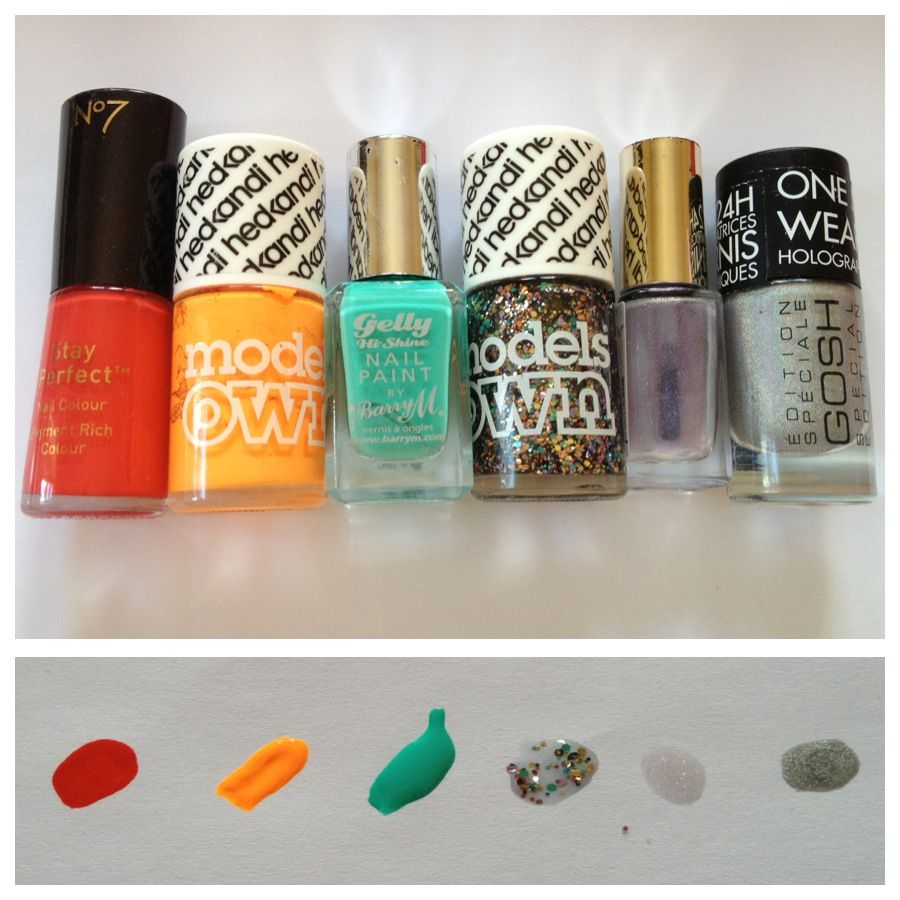 (My Favourite Picks) L-R- No7 Crave Me, Models Own Beach Party, Barry M Greenberry, Models Own Ibiza Miz, L'Oreal Color Riche 820, Gosh Holographic Hero.
Here it is. A visual representation of where all my money goes. Lovely to be reminded..
In all seriousness, this collection gets quite a pounding. I change at least three times a week so it was inevitable a build up would happen. Compared to some my collection is modest, to others, excessive. However the colours in here are what work for me, and alongside the photos I will share my top picks with you.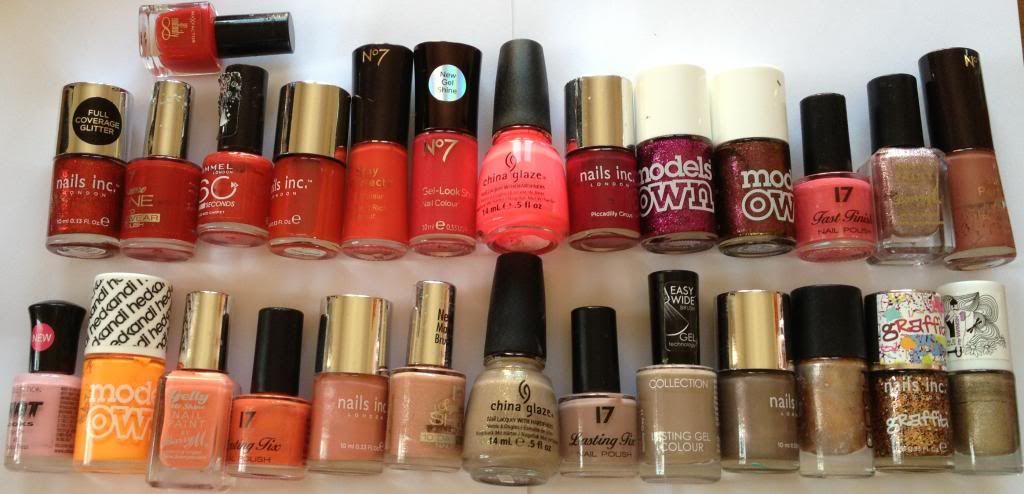 The reds and Neutrals
Most reached for as these are my more corporate colours. The more boring ones lets say. My favourites are the Models Own Beach Party, China Glaze Pool Party and the No7 Gel Shine in Hotting Up. All of which I have reviewed seperately. I own a fair few Nails Inc polishes as the quality is great, but for the pricepoint I'd look towards brands such as Barry M and Models Own. Some hidden gems would be the SEVETEEN polishes, for their price they make a fab addition to your colour spectrum and keep up to date with trends.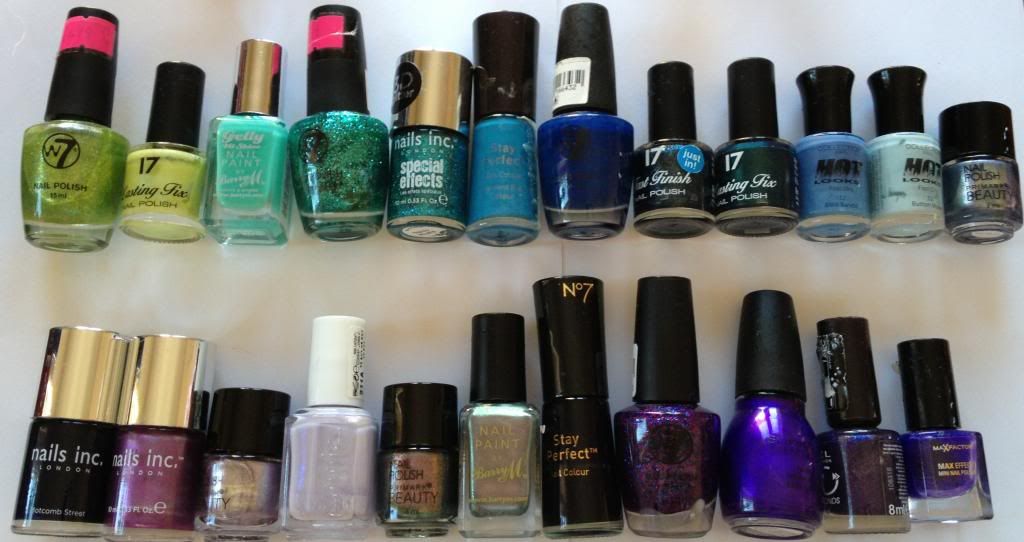 The Blues, Greens and Purples
The most reached for? Fantasy Fire and Greenberry (Barry M). The ones I wouldn't waste your money on? Primark polishes. They take an age to dry. My only Essie polish is nestled here (To Buy or Not to Buy) a pale lilac with blue shimmer which is a gem but is getting bustled to the back the closer to the Autumn months we move. Try having a look at the Collection Hot Colours polishes. Cheap and long lasting, some of the most hard wearing ones I own. Sinful Colours deserve a shout out here to, especially when they are £1.99 each so a great for on trend colours.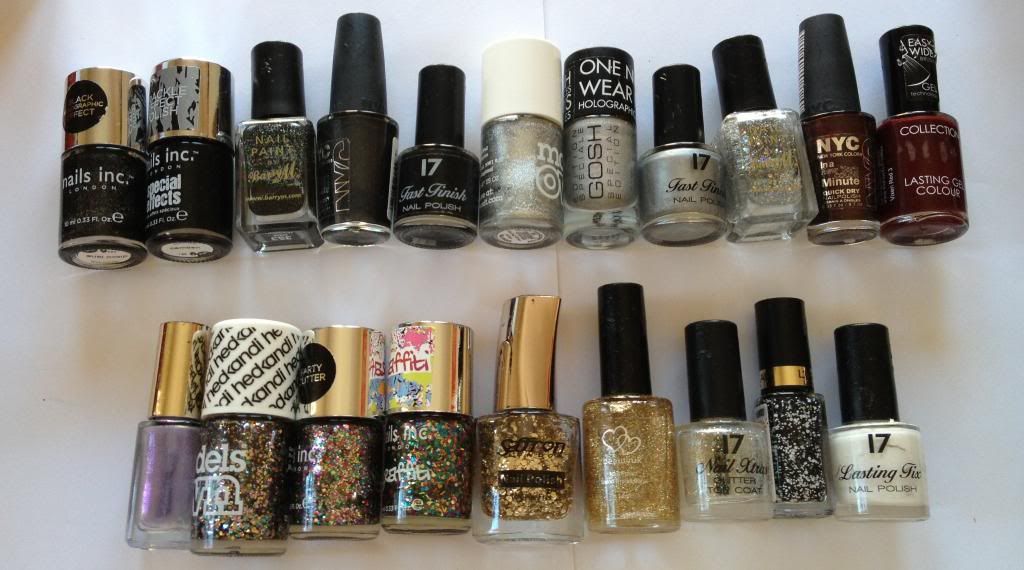 Glitters and Darks
My favourite! So much! Love the Nails Inc Graffiti polishes, the L'oreal Confetti and Cystallisme and the Barry M. Don't rate the Models Own Silver or the NYC polishes because they take forever to try or chip easily. The 17 White polish isn't the greatest but Barry M and Models Own offer a great alternative! The Collection Gel Shine nestle on the top right is great to - dries to a really high shine!
There you have it!! If you would like to see an individual swatch of any of these, drop a comment or a tweet to me and i'll rustle something up for you :) Any of these your go to shades?