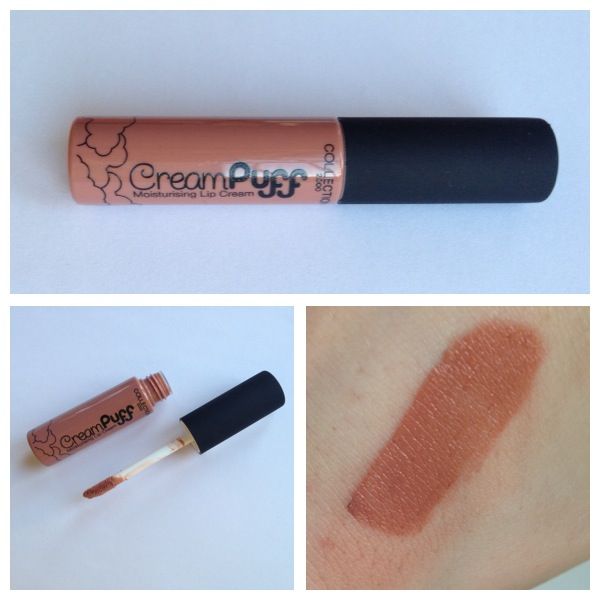 Happy Sunday, everyone!
You know when you look at a product and just don't try it because you think it looks rubbish? Well try it, because you might just find a new must-have.
Today a post regarding Bloggers favourite, the Collection Cream Puff Lip Cream in Angel Delight* - a velvet matte finish lip cream. I initially bypassed this as I received it in my goody bag at a blogger meet up and the colour just looked, to put it bluntly, vile. I tried it on a whim the other day and was seriously impressed with it.
Firstly it smells amazing - if you aren't a fan of strongly scented products you won't like this, it's a very sweet, almost chocolate smell. Secondly - the finish is gives the lips is perfect and it applies as such. It's almost a whipped mousse texture and the applicator is great in terms of applying the product as lets face it, there is NOTHING worse than having a good lip product with a rubbish applicator.
The staying power of this is really quite something - you can get a good few hours with eating and drinking and still have a trace of it left which impressed me. They are really pigmented too, giving a full wash of colour straight away. One niggle is that if your lips are dry the cream will highlight this so give them a good scrub pre-application.
The colour I have isn't the greatest... a terracotta brown which really is not for everyone and will not flatter all colourings. I use this as a work lip product as it isn't too out there but in some lights it can look a tad orange for my liking. However paired with a simple eye it does give an effortless chic look because however much I wish I could, sometimes I just can't wear a bright lip.


So, if you haven't already I recommend you try these. Perhaps not this particular shade but with 3 others to choose from there is a colour for everyone. Another use for these are as cheek products, which I am yet to try, so this colour could work for a different purpose - I'll let you know with that one.
£2.99
here! (Remember it's 3 for 2 at Boots at the moment...)